Preworkshop | 1.-6. August 09
Jess Curtis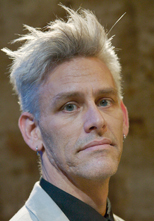 Living and working in both San Francisco and Berlin, Jess Curtis has created a body of work ranging from the underground extremes of Mission District warehouses with Contraband and CORE (1985-1998) to the formal refinement and exuberance of European State Theaters and Circus Tents with Compagnie Cahin-Caha and Jess Curtis/Gravity (1998-present). Mr. Curtis has collaborated with the renowned FabrikCompanie in Potsdam, Germany to create the award winning fallen; and been commissioned to create works for companies such as Artblau in Germany, ContactArt in Milan, Italy, Blue Eyed Soul Dance Company in England, and Croi Glan Integrated Dance in Ireland. Curtis has twice been recognized by the James Irvine Foundation/ Dance USA California Dance Initiatives, having been awarded a California Dancemakers Fellowship (2001) and a Dance: Creation to Performance Award (2005). He also teaches Dance, Contact Improv and Interdisciplinary Performance throughout the US and Europe and has been a visiting professor at UC Berkeley, and the University of the Arts in Berlin. He is currently pursuing an PhD in Performance Studies with a focus on choreographic practice at the University of California at Davis. Contact Improvisation and Spontaneous Composition are central tools in his performing practice, which he uses as training/tuning techniques for himself and the performers he works with, and in making performances that embrace the risk of making choices in real time
WATCHING THE WATCHER: "Presence and Performance in Contact Improvisation"
Lately, I am intrigued by the wide range of ways that people are using the words "performance" and "presence" in relation to dancing bodies. Can I dance in a room by myself and be performing for an audience that is just me? When you are dancing with me are you performing through the medium of touch? Is it possible to not be present with each other when we are dancing together? Is our presence physically confined to the space of our bodies? Can these questions create interesting dances?
This course will be an embodied exploration of cycles and scales of sensing, observing, and consequential action in the practice of Contact Improvisation. Working from the cellular to the global, we will examine how we sense each other, take action and make meaning while we dance. We will give particular attention to the tension between the concepts of presence and performance as lenses through which to observe/view/feel/listen-to/activate the body. We will "spend" time shifting our awareness to a more cyclical time state, unencumbered by desires and goals and we will "take" time observing ourselves and each other, thoughtfully examining the consequences of our actions. We will examine the physical actualities of touch, manipulation, counterbalance, force, resistance, and surrender, both as physical states and as meaningful expressions of interpersonal and intercultural relations. Bring curiosity, a desire to dance and a willingness to be seen.