Postworkshop | 17. - 21. August 2010
Cyrus Khambatta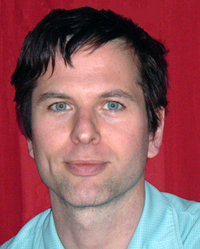 Cyrus Khambatta graduated from New York University where he founded The Phffft! Dance Theatre Company. He has created and/or performed both improvised and Contact-inspired choreographed works presented in nine US states, throughout Europe, Russia and Latin
America by companies such as Ririe Woodbury Dance (Salt Lake City), Pisorojo (Caracas) Donald Byrd's Spectrum Dance (Seattle), Evergreen Ballet, as well as his own, Phffft! and others. His Contact Imrovisation-inspired work received California's Daman New Choreography Award in 2003, and he was chosen for the National Dance Project's Regional Dance Development Initiative in 2004.
His work with his company has been presented by venues including The Spoleto Festival (NC) The Innovators Series (VA), Choreographic Center of Tours (France), The World Expo (Lisbon), GREC Festival (Barcelona), The Aula Magna (Caracas) and received the support of over fifteen funding organizations in the U.S. and abroad. As an improvisor he has performed/taught at The New York and Washington D.C. Improvisation festival, Seattle Festival of Dance and Improvisation, Dartington College (UK), Bialystok Dance Festival, Kontakt Budapest and others. He runs the Wild Meadows Farm Improvisation Intensive, advises the Wash. D.C. Improvisation festival, and runs The Centrum Jam as well as produces Beyond the Threshold Seattle's International Dance Festival which has presented site-specific and theatrical performances of Contact Improvisation/Contemporary Dance with over 150 artists from 15 countries in its 4 years of existence.
Contact Improvisation in Performance
There are aspects of CI that are exquisitely beautiful to the eye: its use of flow and momentum, amazingly architectural lifts and seemingly impossible melting of bodies into the ground, are just a few of these. Peculiar and interesting are the intimacy that it evokes, which seems from the outside eye like a film-like dramatic story unraveling in real time. This workshop will focus on bringing the effervescent elements of CI into a performative state where we can be inside of the dance and aware of what it is exuding at the same time. Exploring aspects of intimacy of physical contact, the architecture of the balance, the juxtaposition and alignment of moving body parts and the flow of momentum of the CI dance. We will allow ourselves to consider the story this creates (for ourselves and others). We will look at complimentary improvisational techniques akin to CI that allow us to capture every moment that arises in a dance and develop it for our own greater enjoyment and for the benefit of outside witnesses. Much of CI is practiced in close proximity, in part because it interrelational aspects are so compelling to experience, but intimacy, momentum, flow and these interrelational aspects can be played out in space or even just above the surface of the skin. Through this workshop, open to all levels, we will find different ways to engage in a dance and ways to engage with different dancers. We will examine how to use space and directional flow as an imaginary third partner feeding our own interest and maintaining an engaged state even when not in contact with another partner.